BiblioFile
Z39.50 Quick Start
Unleash the full power of BiblioFile by installing the ITS.MARC Z39.50 profiles. See BiblioFile Help, or follow these Quick Start steps:
Launch BiblioFile: click Start > Programs > BiblioFile > BiblioFile.

Login if necessary.

Click Components > Search Profile Editor.

Click Search Profile > Update TLC Z39.50 Profiles.

Enter your Username and Password and click Search. Get a free trial password by e-mail from TLC if you don't have one. Click OK.

Drag and drop databases to reflect your search hierarchy preferences.

Click Save (blue disk icon) or press F9.

Click Search (magnifying glass) or press Ctrl-F12.

Explore to your heart's content.
Hot tip: For a nice demonstration of the powerful result set filtering options, try this search against LCCurrentZ:

In the result set, click Get All and load about 1000 records into memory. Click Cancel to stop loading or let it finish loading all 16,000 records.

Start typing something into the Filter box. Watch what happens as you type each character. How's that for refining a result set!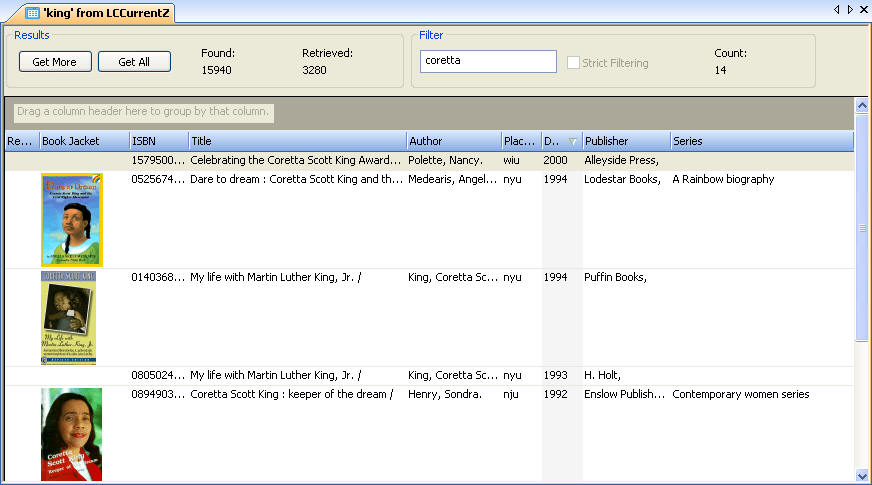 You can also search other Z39.50 databases, such as OCLC, large public libraries, or universities. Learn more.
Search for authority records at TLC Authorities.