Cataloging Hot Tips
This page is dedicated to the catalogers in the trenches -- the ones who struggle every day to meet the ever present challenge of MORE, BETTER, FASTER, CHEAPER. If your goal is to make the library experience as rich and rewarding as it possibly can be for your library's users, then you're our kind of cataloger. We want to help. The tips below were assembled by TLC Support staff, Documentation writers, and Product Managers to help you produce the best MARC records in the shortest time. There's also a Shared Tips link so you can share your own discoveries. Please help us help you by suggesting ideas for this site.


Cataloger's Reference Shelf updates
TLC is constantly updating the Cataloger's Reference Shelf (CRS). To keep current, check back here frequently. Be sure also to install all software updates you receive from TLC. Updating your software also updates the CRS on your PC.
To update your Cataloger's Reference Shelf files from this site:
Select and download the file appropriate to your system.
Run or unzip the downloaded file. The EXE files are self-extracting executable (program) files. Zip files require the use of a third party unzipping (extraction) program.
Confirm the drive and folder for your CRS files.
Click Unzip, or complete the extraction with your own unzipping program.
Cataloging Software

Operating System

Last Updated

Download Type

BiblioFile

Windows 7, 8, 10, Vista, or Windows Server 2008, 2012

06/26/2015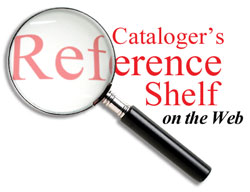 The Cataloger's Reference Shelf, a component of the help systems in BiblioFile and the Library•Solution integrated online library system, is published in web format and is available for free use by any cataloger with a web browser.
The CRS is based on 26 MARC manuals and other reference works published by The Library of Congress and frequently accessed by technical services staff.
TLC has always been guided by the desire to improve patrons' experiences with the library. We hope the provision of this free resource will make it easier for librarians to produce uniform, high-quality cataloging records that will lead to richer patron experiences with library catalogs.

ITS.MARC Network status

Web access: No known Internet connectivity problems.
Slow response time: If your ITS.MARC connection is slow, click here.
Serials Limiting: If you limit a web-based search to serial formats only (in Set Limits), your search will fail in most circumstances. Until this can be resolved, avoid limiting by this format. You can remove any existing limiting by clicking the Clear Limits link.
Alternate Z39.50 server access: TLC maintains two ITS.MARC servers for Z39.50 access. The "tried and true" server (z3950.itsmarc.com) is accessed primarily by users of TLC's established cataloging software products (ITS for Windows and Library.Solution Cataloging) and by catalogers using non-TLC Z39.50 clients. The other server (z3950.library.com, the "BiblioFile" server) is used primarily by BiblioFile users. In reality, either server could be searched by any Z39.50 client with the proper attribute settings. For example, the following instructions may be used by BiblioFile users in the event the BiblioFile server were to go down.
Go into BiblioFile and select Components > Search Profile Editor. Although you can change the server a given profile uses, TLC recommends making a copy of the profile and changing the copy. Here's how:
Click on the database you want to copy (e.g., LCCurrentZ).
Select Edit > Copy
Select Edit > Paste. A new profile will become visible (e.g., LCCurrentZ (1) ).
Rename the profile to indicate it will use the old server (e.g., LCCurrentZ - old server)
Click on the profile you just created.
Under Server Information, change the Address from z3950.library.com to z3950.itsmarc.com.

After saving your changes, you will be able to search the old server by title, author, or subject. Note that these text-type searches must be invoked as keyword searches ("contains"). Numeric searches, such as ISBN, LCCN, etc. require one more change to the profile.

Under Attribute Information, select Bibliographic as the Record Type, ISBNs (or LCCNs, etc.) as the Search Field, and Begins With as the Search Type.
Change three of the six attributes as follows:
Structure = 2 (Word)
Position = 3 (Any position in field)
Truncation = 1 (Right truncation)

Numeric searches, such as ISBN, must be performed as "Begins With" searches

Select File > Save or press F9 to save your changes.

Reporting Errors to the Library of Congress
TLC strives to maintain the most up to date and accurate cataloging resource data available. We rely on national libraries, professional cataloging services, and our own contributing libraries when constructing the ITS.MARC resource pool. Occasionally, even professional catalogers make mistakes.
If you find an error in a cataloging record from the Library of Congress, LC wants to know about it. Please refer to http://www.loc.gov/help/contact-libarch-report.html for instructions.